answer: alot less than is normally in!
Hello again. I keep seeing this tag on youtube and peoples blogs and it sounded a fun thing to do on a boring saturday afternoon
anyway heres my bag- nothing edited except emergency tampons, choc wrappers i couldn't find a bin for,thousands of bus tickets and snotty tissues (kidding bout that one!)
I normally have an emergency chocolate bar but not today - anyway here goes...
The bag:
is more of an animal than a bag, I get strangers come and stroke it lol.
It's also nice to cuddle on my lap when the weather is cold hehe
I added my own little touch with the badges which i actually made at secondary school once
Anyway heres a peek inside...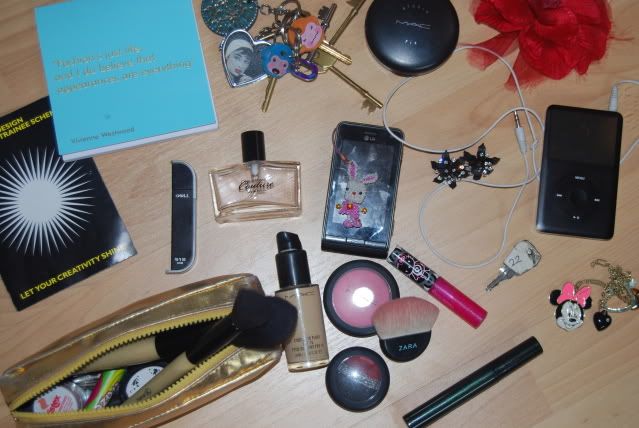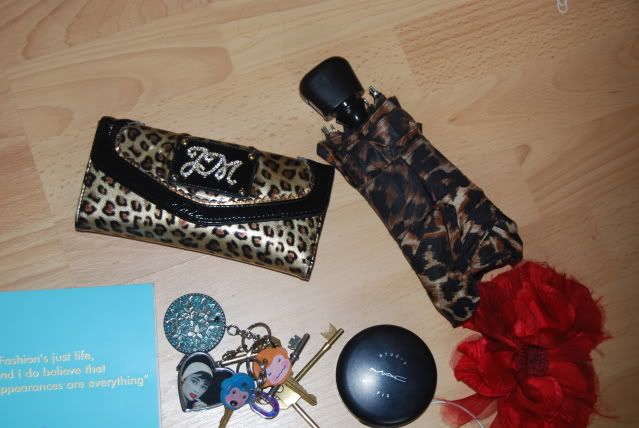 Im afraid I have a leopard print obsession, my make-up bag was leopard print too but the zip broke so now its gold.
My purse is Julian Mcdonald.
The umbrella is one of those spring action ones but no idea where it's from however it does has a lifetime guarantee lol.
I have my blue Vivienne westwood notepad minus a pen- doh!
Various keys for my house,dads and boyfriends, with silly key covers to distinguish between each.
Next is my Studio fix, always have this with me for touch ups.
A red corsage from my Dita Von Teese days.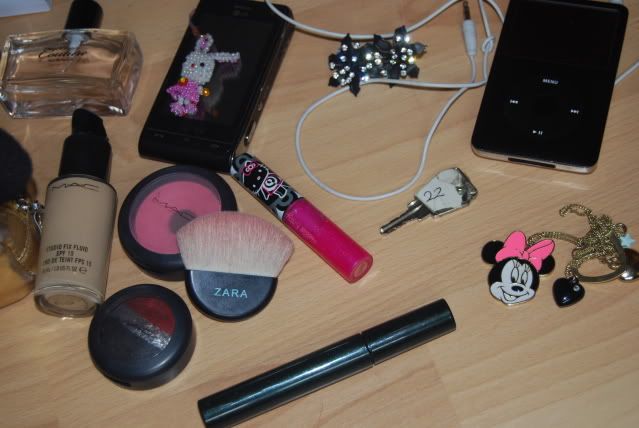 I have Next couture pour femme in my bag,because its small and i won't be as guttered if it smashed as I would juicy couture.
Theres my LG viewty with little bunny attached
Some vintage earrings
My boyfriends i-pod ( I have a green shuffle instead)
A minnie mouse necklace from H&M
A locker Key that belongs to my friend Lucy
...and the essential bits of make-up which belong in the gold bag
voila! thats not too bad is it? Its pretty heavy though.
Does anyone else have a super heavy bag?
do you carry everything but the kitchen sink?